Flash Media Recovery: Compact Flash Cards, Secure Digital (SD), USB Flash Drives
Future Vision Data Recovery has successfully recovered data from virtually every type and brand of flash memory based storage device ever produced. Companies such as Transcend, Corsair, Sony, SanDisk, Kingston, and A-Data, strontium, cac, Samsung just to name a few, all manufacture flash memory based storage devices based on NAND flash memory technology in a variety of types such as: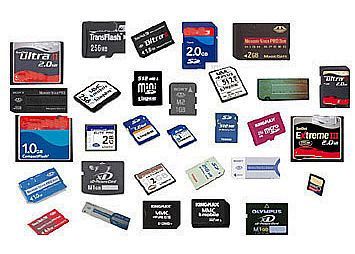 USB Flash drive
Compact Flash Card
Secure Digital(SD)
miniSD
microSD
Smart Media Card
SDHC Flash Card
Multimedia card(MMC)
Memory stick
Memory stick Duo
Memory stick Pro
Memory stick HG
Memory stick Micro
xD-Picture Card

Future Vision Data Recovery is able to recover data from flash media devices whether they are physically damaged, unrecognized by operating systems, or unmountable in cameras and other devices. This includes flash drives that are displayed as 0 MB in size, not recognized by the computer, or the device asks you to format.
Solid state storage devices such as a USB Flash drive, SD Card, Memory Stick or SSD drive have several advantages over other portable storage media. When compared with storage devices like floppy disks, hard drives, or ZIP drives, flash memory based storage devices are faster, have higher storage density, and contain no moving parts. But, no matter what type of storage device it is, sooner or later it will fail.
WE CURE WHERE OTHERS START PRAYING BECAUSE WE BELIEVE IN OURSELVES
For More Detail Call Us:- (+91) 97799-59000,96469-30064,98725-30064